Grenadier, Duffett, Levi, Winkler & Rubin, P.C. Contributes To The International Comparative Legal Guide – Virginia Family Law 2023
Grenadier, Duffett, Levi, Winkler & Rubin P.C. recently published a chapter in The International Comparative Legal Guide – Family Law 2023 for Virginia. Ilona Grenadier and Carolyn Abbate were the chapter's main authors.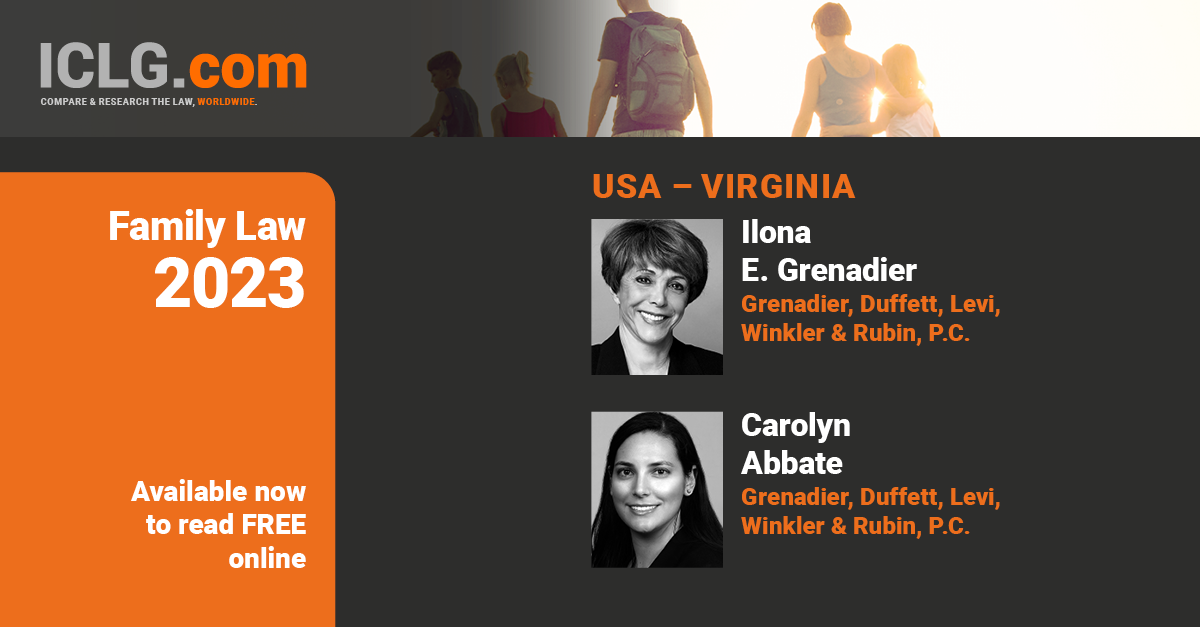 GDLWR's chapter covers divorce, finances on divorce, marital agreements, cohabitation and the unmarried family, child maintenance, children – parental responsibility and custody, and children – international aspects. You can access the chapter for free on ICLG.com (link below), or you can purchase the chapter as a PDF for £100.
The International Comparative Legal Guides (ICLG) provide current and practical comparative legal information in the Q&A format. As a leading global platform for legal reference, analysis, and news, it spans 193 jurisdictions across 58 practice areas.
The Family Law 2023 issue covers common issues in family law including jurisdiction, divorce, cohabitation, children, abduction, relocation, cross-border issues, parental responsibility, child maintenance, and marital agreements.
ICLG accepts expert contributors on an application basis. Its contributors form an international network of legal experts who reach a wide readership of both legal and business professionals around the world. ICLG contributors and partners also are featured in promotional services (both online and in print) at legal events worldwide.
About GDLWR: GDLWR is a Virginia Family Law Firm that boasts 100+ years of legal experience. Specializing in divorce, child and spousal support, custody, equitable distribution, marital agreements, and post-divorce actions, GDLWR's lawyers are the recipients of numerous prestigious awards.
VA Family Law Firm
Latest Posts
by VA Family Law Firm
Grenadier, Duffett, Levi, Winkler & Rubin Named 2024 Best Law Firm - Grenadier, Duffett, Levi, Winkler & Rubin is proud to announce their...