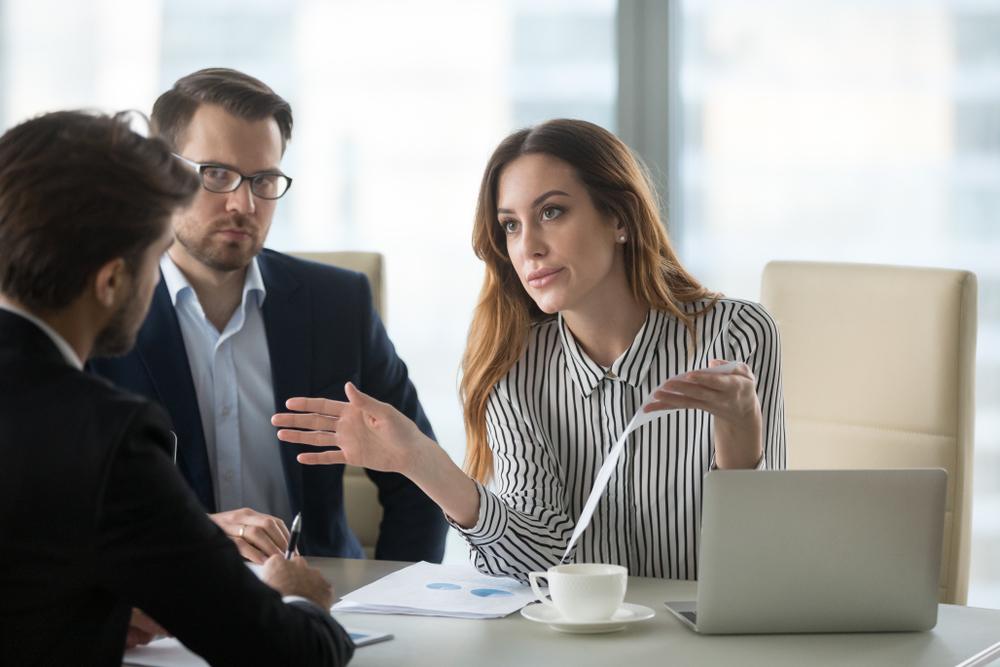 by Katherine Smith
A divorce mediator in Alexandria can help you reach a peaceful, mutually agreeable resolution for your divorce. Hiring a divorce mediator can keep you out of court and save you thousands of dollars, and a lot of time and stress.
Divorce Mediation
Mediation uses a neutral third party to facilitate communication between the two parties and help them negotiate a mutually agreeable resolution.  Many find that mediation is preferable to litigation, which is often a stressful, emotionally draining, and financially demanding process.
During litigation, individuals are limited by the rules of evidence, court procedures, time, and the patience and experience of the judge. On the other hand, mediation has no rules of evidence, strict time limitations, or a judge who has to decide the issues. Instead, the two parties work together to reach a solution in a respectful and peaceful manner.
[Related:
Guide to Divorce in Alexandria
]
Tailored Agreements
Unlike  a court ruling, where the judge is bound by the law with respect to what he or she can order, mediation allows you to come to agreements that are uniquely tailored to your family. While litigation is appropriate in some cases, a divorce mediator gives you full control over the outcome for your family.
This gives you and your spouse the opportunity to come up with creative solutions that work for your family's unique situation. Once you enter the courtroom, the judge (a complete stranger) will decide how to split assets and determine the fate of your family.
Divorce Mediator in Alexandria
If you are interested in resolving your marriage in a peacefully, cost effective way, mediation is probably right for you. The attorneys at Grenadier, Duffett, Levi, Winkler & Rubin, PC have the skills and experiecne to help you navigate the mediation process Contact us today to get started!
by Katherine Smith
People often prefer divorce mediation to litigation. Divorce mediation aims to resolve divorce in a peaceable, cost and time-effective way that is beneficial to both parties. This is done through open communication with the use of a third-party mediator. Let's look at what divorce mediation is and where you can find a mediator in Reston.
Mediators
A mediator is an unbiased, neutral third party. Mediation specialists have the skills and experience to comfortably guide you to a comprehensive resolution of all issues involved in your divorce. The main goal of a mediator is to facilitate negotiation between the parties, so that the parties are able to reach a resolution that is tailored to their particular family and circumstances.
In Lieu of Litigation
Choosing mediation instead of litigation can be very advantageous for you and your spouse. It is typically a more comfortable way to navigate divorce and provides several benefits including:
Mutually beneficial. Divorce mediation seeks an outcome that suits all parties and is agreed upon by both.
Cost-effective. Divorce mediation is generally far less expensive than litigation.
Mediation only takes as long as is needed to reach agreements. This could be finished in one session or several sessions over the course of a few weeks, whereas litigation may last a year or more.
Preserves relationships. Divorce mediation can help you resolve your problems amicably and helps to preserve relationships and ease stress on the entire family.
If no court intervention is needed, divorce mediation remains confidential.
Divorce Mediation in Reston
If you are considering a divorce and think that divorce mediation is right for you, please give us a call. At Grenadier, Duffett, Levi, Winkler & Rubin, our attorneys have the skills and experience to help you navigate the mediation process. Contact us today to learn more!